While the shutdowns immediately altered how people spent their money, the patterns have continued to shift as the weeks have gone on, new data shows, shaped by waves of panic buying and even payouts of government aid. The latest bump in online spending came after the government sent out stimulus payments to tens of millions of American households beginning on April 11.
Beyond what might be temporary shifts, consumer habits appear to be changing in ways that may well endure beyond the pandemic and determine who will become the most important online players.
Change in sales for major e-commerce categories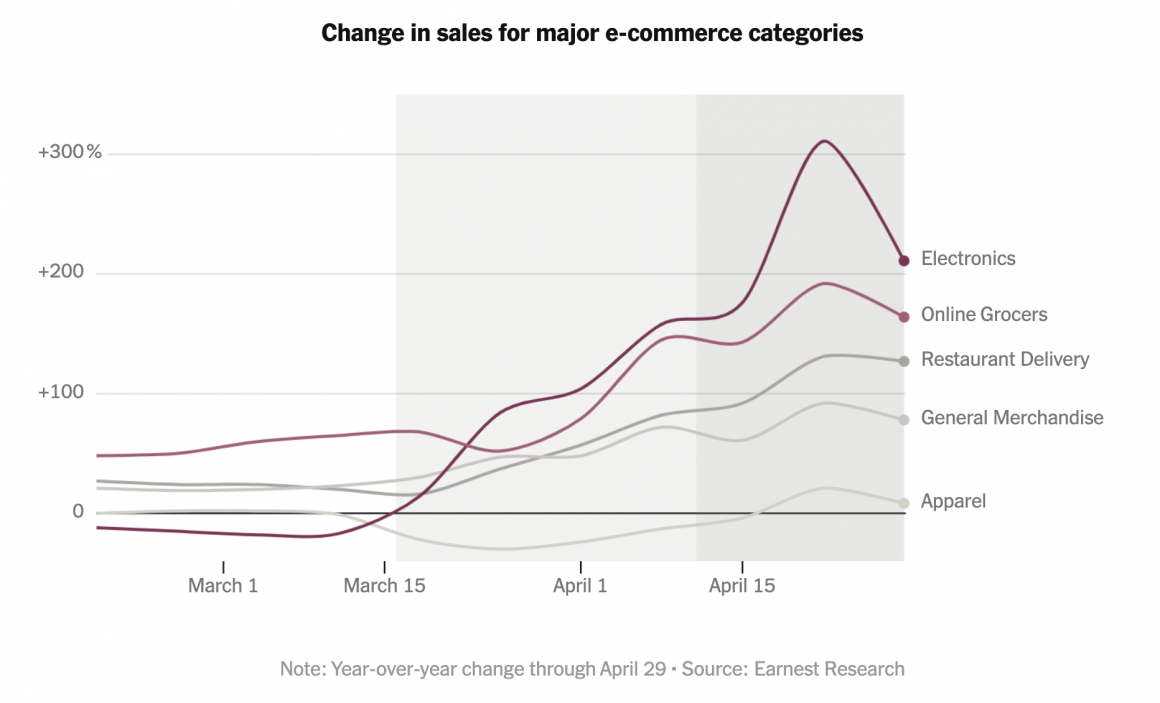 Big and sometimes unexpected winners have emerged in several of the industries that have come to define the coronavirus economy, according to data from Earnest Research, which tracks millions of credit and debit card transactions in the United States. Many e-commerce companies are now in a much stronger position than before. But even within the areas of rapid growth, the recent gains have not been spread evenly.
It's hard to sell clothes, other than leggings and sweatpants

The growth of online sales has not been enough to save all e-commerce players. The start-ups that were set up to deliver people their clothing at home have almost all struggled as people have stopped needing nice clothes to go to work. One of the few apparel companies that have been doing well, at least online, is Lululemon, thanks to its generous selection of the sweatpants and leggings that serve as particularly good work clothes when your office is in the basement.
Credit: NY Times – Click here to view the article
More related articles: Covid-19 will drive fast change in consumer behavior, says Accenture study, Coronavirus crisis and the Hispanic consumer, Gen Z consumers are making companies bend to their will
MADE Trends is a fashion trend forecasting agency based in NYC. Merchandising and Design Experts (MADE) specializes in trend forecasting and market positioning foresight for the fashion and retail market. Delivering researched and highly relevant insight on market conditions, emergent opportunities and key products. MADE bespoke reports help clients to identify and capitalize on current and future 25 market trends.  For your industry-specific forecast, please contact us.