The company became the latest in a string of money-losing outfits that have received a cool greeting by Wall Street investors.
SAN FRANCISCO — Casper Sleep, a start-up that sells mattresses online, became on Thursday the latest money-losing outfit to get a cold shoulder from Wall Street investors.
The company's stock began trading on the New York Stock Exchange at $14.50 a share, slipped below $14 in the afternoon and ended the day at $13.50. The lackluster first day of trading did not come close to fulfilling what Casper's venture-capital investors thought it was worth a few months ago.
The New York-based start-up had been valued at $1.1 billion by private investors last year. But that was before the five-year-old company publicly revealed in January that it lost $67 million on $312 million in revenue in the first nine months of 2019, thanks in part to spending $114 million on marketing.
Casper reduced its proposed share price, valuing the company at less than $500 million. It raised $100 million in the offering.
While investors continue to enthusiastically buy shares in the tech industry's biggest companies, they have been skeptical of young companies that are losing money.
Last year, Uber and Lyft, ride-hailing competitors that are both losing huge amounts of money, had disappointing public offerings. WeWork, the commercial real estate company, dropped its I.P.O. plans and experienced a management shake-up after investors recoiled from its poor financial performance.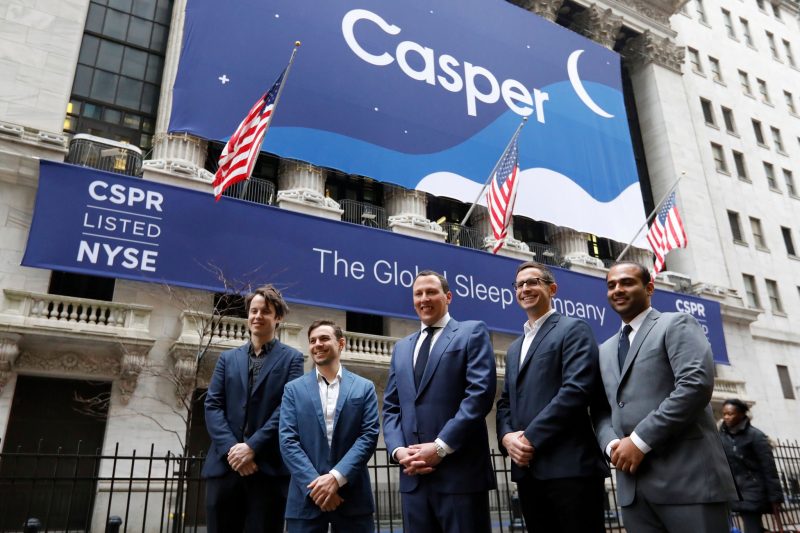 In an interview, Philip Krim, chief executive and co-founder of Casper, was still enthusiastic about his company's first day of trading. "Getting out to public investors has gone great," he said. "I've enjoyed telling people what we're trying to build and helping people understand it at a level of depth that the headlines might mislead you from."
Mr. Krim said his company's model of selling goods directly to customers, rather than exclusively through retail chains, is a new concept to public market investors. "Our business is not what investors are used to seeing at this scale," he said.
Casper's lower I.P.O. valuation was just a moment in time, he said. "That doesn't change what we're focused on at Casper," Mr. Krim said, "which is building the world's first sleep brand."
The company's disappointing initial public offering follows a year of letdowns for Silicon Valley's high-profile start-ups. Public market investors have shown more interest in profitable companies serving other businesses, like Zoom Video Communications, a teleconferencing company, and Tradeweb, an electronic trading platform.
This year, the I.P.O.s of 1Life Healthcare, a membership-based health care service, and Reynolds Consumer Products, the household goods company, have also soared.
Before it went public, Casper had been the toast of the start-up world. The company shook up a stodgy mattress industry by selling beds online, delivering them to people's doorsteps in boxes the size of mini-fridges.
To lure customers from traditional department stores and mattress chains, Casper advertised heavily on subways, podcasts and television and through quirky marketing campaigns.
"They transformed the way people buy mattresses, sort of forever," said Ben Lerer, an early investor in Casper through the investment firm Lerer Hippeau. "People didn't buy mattresses online before Casper existed, and now they do."
Venture investors poured more than $340 million into the company, according to Crunchbase, and Casper began calling itself the "Nike of sleep," selling pillows, sheets, dog beds and other accessories to what it termed the "sleep economy."
The company opened 60 of its own stores. In 2017, Casper turned down a $1 billion acquisition offer from Target, which sells Casper products. The chain invested in the company instead.
But as Casper grew, competitors saw an easy opportunity and rushed in, with an average of one new "bed-in-a-box" company launching per week between 2015 and 2018. There are now 175 competitors in the market, according to GoodBed, a mattress comparison website. There are even copycats from the older mattress companies, like "Cocoon by Sealy."
"Because of their success, there was a very clear blueprint to follow for other people, and the barriers to entry are very low," said Michael Magnuson, founder of GoodBed. "But as other companies followed their blueprint, those marketing tactics became more expensive."
Mr. Krim said some aspects of Casper's heavy spending were over. Opening more stores and striking more retail partnerships mean the company could spend less on sales and marketing, he said.
"The investment phase of ramping up things like Casper Labs is behind us," he said, referring to Casper's research and development facility in San Francisco.
Click here to read the article. 
More related articles: The $70 billion quest for a good night's sleep, Dream ticket: how sleep became a billion-dollar business, Upscale pajamas, luxury bedding, spooning robots: how sleep became commodified.
MadeTrends is a fashion trend forecasting agency based in NYC. For your industry-specific 2020 forecast, please contact us.