Two emerging post-street-wear brands, 18 East and Adsum, take tentative steps off the internet and into retail.
It's getting to the point where when I walk past all the abandoned storefronts strafing New York City, I begin to imagine all the other things they could be used for. Impromptu raves or hardcore shows. Floor-to-ceiling floral displays. Short-run theaters for one or two-person plays. Housing for the unhoused.
The idea that they might someday again be stores is beginning to feel fanciful. There is perpetual tension between, on the one side, soaring rents and the increasingly clichéd and untrue notion of New York as a moneyed town and, on the other, the cold realities that living here, creating here and shopping here are less tenable than ever.
Forgive the mangled Jane Jacobs, but storefront shopping thrives when there is an active sense of civic engagement, and it is a crucial feeder of that energy. Without stores, you'll just stay home, scroll through memes, buy a toothbrush off Instagram, and lie about how happy you are that you don't get enough sunshine.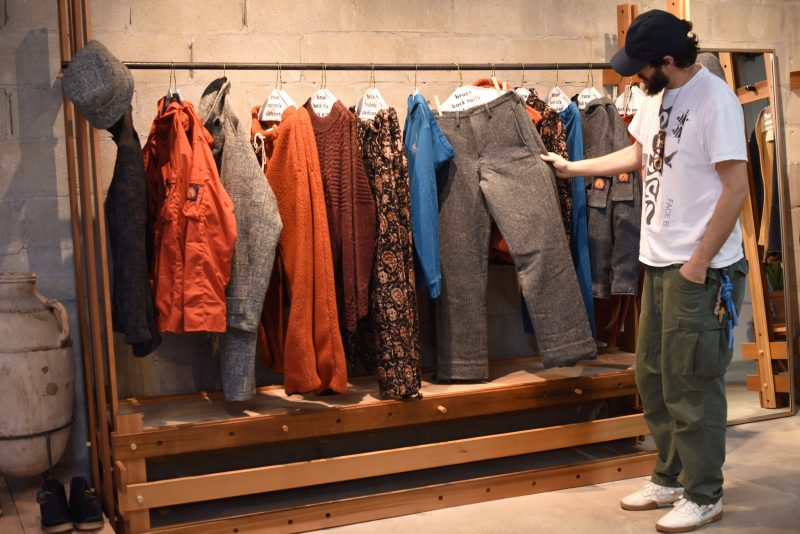 In this climate, any seedling attempting to break through the ashes of New York's retail apocalypse is welcome, especially in men's clothing, which is historically underserved even at its peak. And which, thanks to Supreme and its many direct and indirect imitators, has essentially been reframed as an online game in which winners win garments and also the right to profit off those garments by selling them to those who are bad at the game.
Still, it is now essentially imperative to figure out your value proposition online before attempting to express it in a physical space. Such is the case with 18 East and Adsum, newish men's wear brands making artful post-street-wear, which both have opened storefronts in recent months. Adsum is in a basement space in the Williamsburg section of Brooklyn, just across from the three-story titan that used to be the overextended emporium Gentry and now sits empty, a testament to the burst men's wear bubble; 18 East is in a former massage parlor in NoLIta.
Both brands frame their release cycles in terms of drops, after the Supreme model of frequent (or in these cases, semi-frequent) releases. Both emphasize sustainability and transparency. And both brands take structurally similar but aesthetically distinct approaches to infusing elegance into active clothing.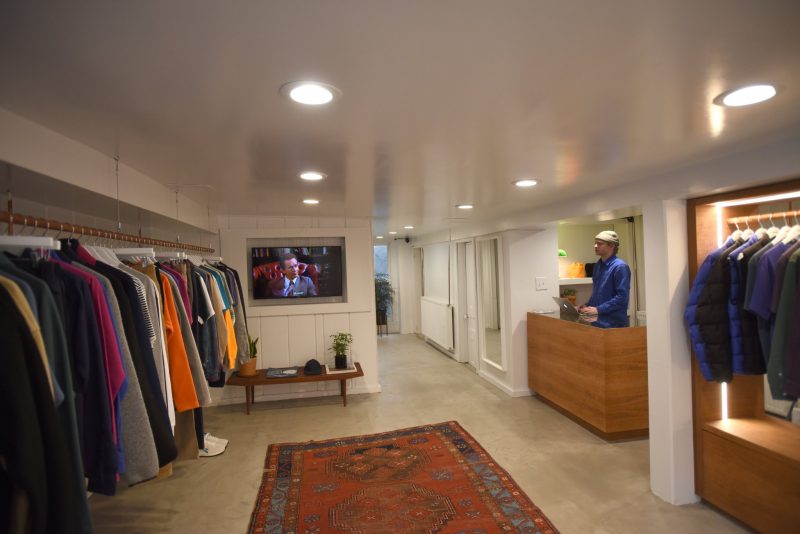 At Adsum, where the placard outside the store reads "For athletes and aesthetes," the clothes are mannered and concise, a range of well-executed basics with appealing twists. The striking work shirts, in colors that include bright magenta and chalky periwinkle, are made of Italian moleskin (and manufactured in India) and have contrasting hidden-snap chest pockets ($175). The cotton on the long-sleeve pocket T-shirts has the proper heft ($75).
Perhaps the best offering is the barn jacket, a sleeker version of what you may find at L.L. Bean or Eddie Bauer, and with less drape, but with a collar that retains its firmness ($112, down from $225). On the whole, the clothes are quiet problem solvers, designed to be unremarkable even when they're, sometimes, remarkable.
Of the two, 18 East has grander and more vivid ambitions. The brainchild of Antonio Ciongoli, who worked at Polo before heading up the Neapolitan casual line Eidos (a sub-brand of Isaia), 18 East takes function-oriented basics — with nods to skateboarding and hip-hop — and refracts them through global artisanal processes: block printing from India, Cham weaving from Vietnam and so on. The results both rethink what constitutes American heritage wear, and also find a common ground between slow production techniques and streamlined release cycles.
The richness of the fabrics here is consistently striking. About a year ago, I bought a fleece vest with a crimson-colored floral chest pocket from one of the company's early drops, so there was no need to double down.
But there were plenty of other appealing options: a meaty black roll-neck Irish fisherman sweater with yellow embroidered embellishment made with Inis Meaín ($545); a filmy purple corduroy work shirt block-printed by hand in Bagru, in Rajasthan, with a leaf motif ($95); even the Donegal on a bucket hat made with Molloy & Sons ($135) that collapses in just the right mid-1990s way.
Though they're working similar ideological territory, the stores differ widely in their tack; 18 East is a more particular proposition than Adsum. Also, the silhouettes at 18 East are a little wider, and sometimes lumpier, and vary from item to item, while Adsum is consistently slim. The 18 East clothes feel lived in before they ever leave the rack.
Nevertheless, the sensations of visiting these stores is strikingly similar. I went to both twice, a couple of weeks apart. In each store, it was the same person who greeted me both times, a laid-back guy who appeared to be enjoying the hanging out and soft-sell casual conversation that you can't replicate online.
For these companies, physical retailing is just a small part of the broader business, and accordingly, there is something tentative about these ventures — the spaces are modestly sized, the sell is very informal. (The 18 East office is in the rear of the store — you can peek into it.)
It wasn't that long ago that we were thinking about newish stores in the city as locales for community, places for people to gather. But the realities of running a store have all but decimated that model. Now, just getting the chance to breathe is a victory.
Full Story at New York Times Fashion and Style…
More related articles: A Japanese rock star – and real estate mogul – talks retail, strategy, How Target became a model retailer, especially in the age of Amazon, Moody's cuts outlook on U.S retail.
MadeTrends is a fashion trend forecasting agency based in NYC. For your industry-specific 2020 forecast, please contact us.