NBA All-Star Weekend is traditionally associated with basketball sneakers. From His Airness to the Black Mamba (RIP) to King James, it's often been what players were rocking during the weekend-long event that drew the hyped footwear crowd. There have been exceptions—2012's "Galaxy" Nike Air Foamposite One wasn't technically an on-court shoe (although it did have basketball roots)—but brands tend to stick with the energy around the festivities for their big drops. This year, New Balance is doing things a bit differently, tapping streetwear designer Joe Freshgoods for a spin on its just-reissued 992 sneaker as well as a special colorway for reigning NBA champ Kawhi Leonard.
Based around Joe Freshgoods' no-nonsense motto of "No Emotions Are Emotions" (more on that later), this venture with New Balance marks the Chicago designer's first major footwear collaboration. Split between two shoes, the retro 992 blends layers of red, burgundy, and pink meshes and suedes with tan leathers. An extra pair of teal blue laces provides the wearer the opportunity to switch things up, but it's the variety of red shades that drive the inspiration behind this design.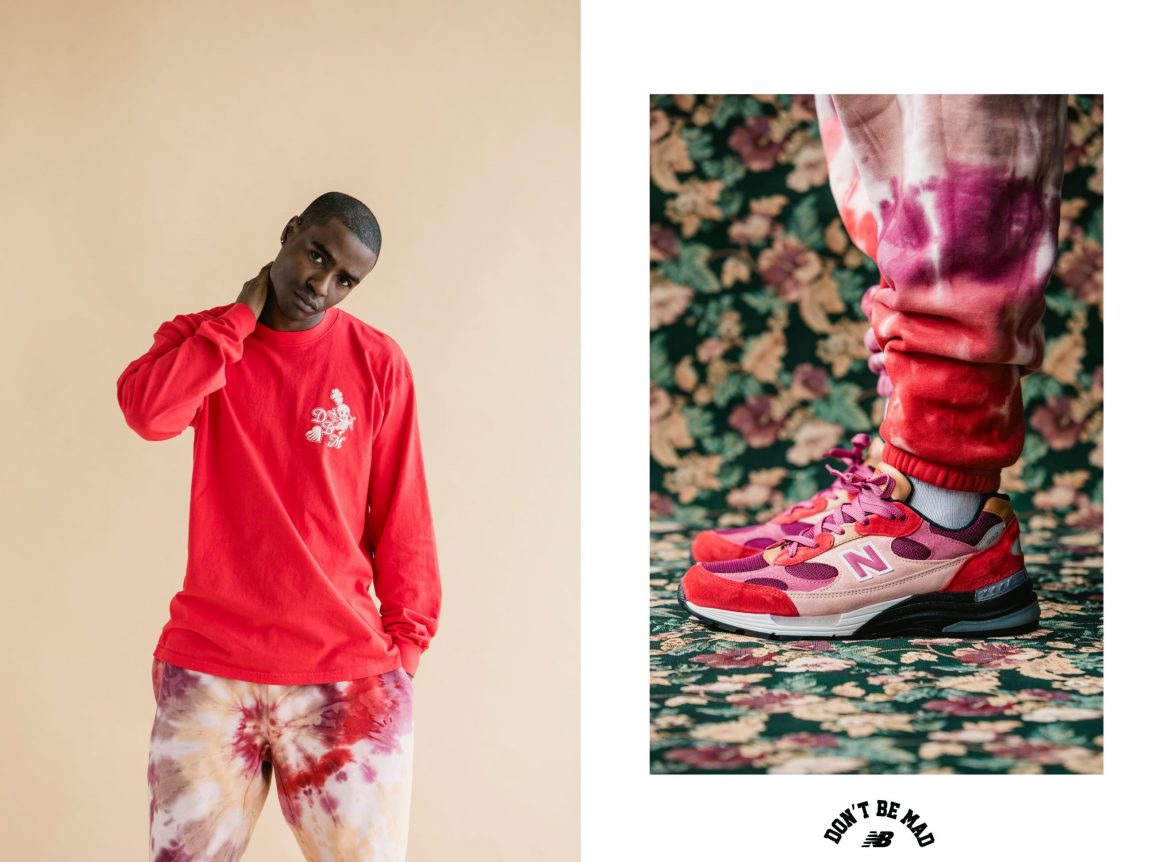 "The backstory is the anatomy of the heart," Joe Freshgoods tells Complex. "We got the vessels…My biggest fear was people like boxing us into a fucking Valentine's Day shoe. And then this dude hit me up online, like I got inspiration from the [DQM x Nike Air Max 90] 'Bacon.' I forgot that shit even existed, like no shots. So…I'm a freaky guy, I like to wear my shit, so the blue shoestrings just add the extra pop. But it's pretty much just taking this whole 'No Emotions Are Emotions' [theme] and kind of tying it into a whole vessel of the heart."
The "No Emotions Are Emotions" mantra is something Joe Freshgoods see as letting one's actions do the talking, proving a point through efficiency rather than showmanship. "For me, 'No Emotions Are Emotions' is basically my game face," Joe Freshgoods said. "It's pretty much for people in a world that don't speak loudly about what they're going to do. They just do it. You know what I'm saying? I think sometimes people are known for always having to be loud and vocal to get a point across. So I think, what 'No Emotions Are Emotions' means to me it's just like, we're not going to talk about what we're going to do. We're not going to create a scene. We just going to get it done. And that's kind of my whole narrative around All-Star Weekend. It's just like, I'm going to just keep showing these brands, these companies, that we are just gonna get it done."
Joe's no-nonsense game face is akin to another one of the collaborators in the project: Kawhi Leonard. Joe Freshgoods worked on a special version of the Los Angeles Clippers' star's New Balance OMN1S sneaker. Rather than simply replicate the colorway used on the 992, they went a different direction, covering the hoops sneaker in stone-face emojis that represent the "No Emotions Are Emotions" ethos to a T.
Prior to his deal with New Balance, Joe Freshgoods had been expected to collaborate with other brands, and he insist he harbors no hard feelings towards those companies—he just wants to work faster. "I think New Balance came at a place where I was just getting frustrated because, again, now I know how this stuff works," he says. "I don't got time to…Work on a product that comes out three years later. You know what I'm saying? And I like New Balance models, smaller teams, faster timeline. So for a person like how I like to operate, New Balance just kind of came and saved me from like…I feel like a old bad relationship that was brewing."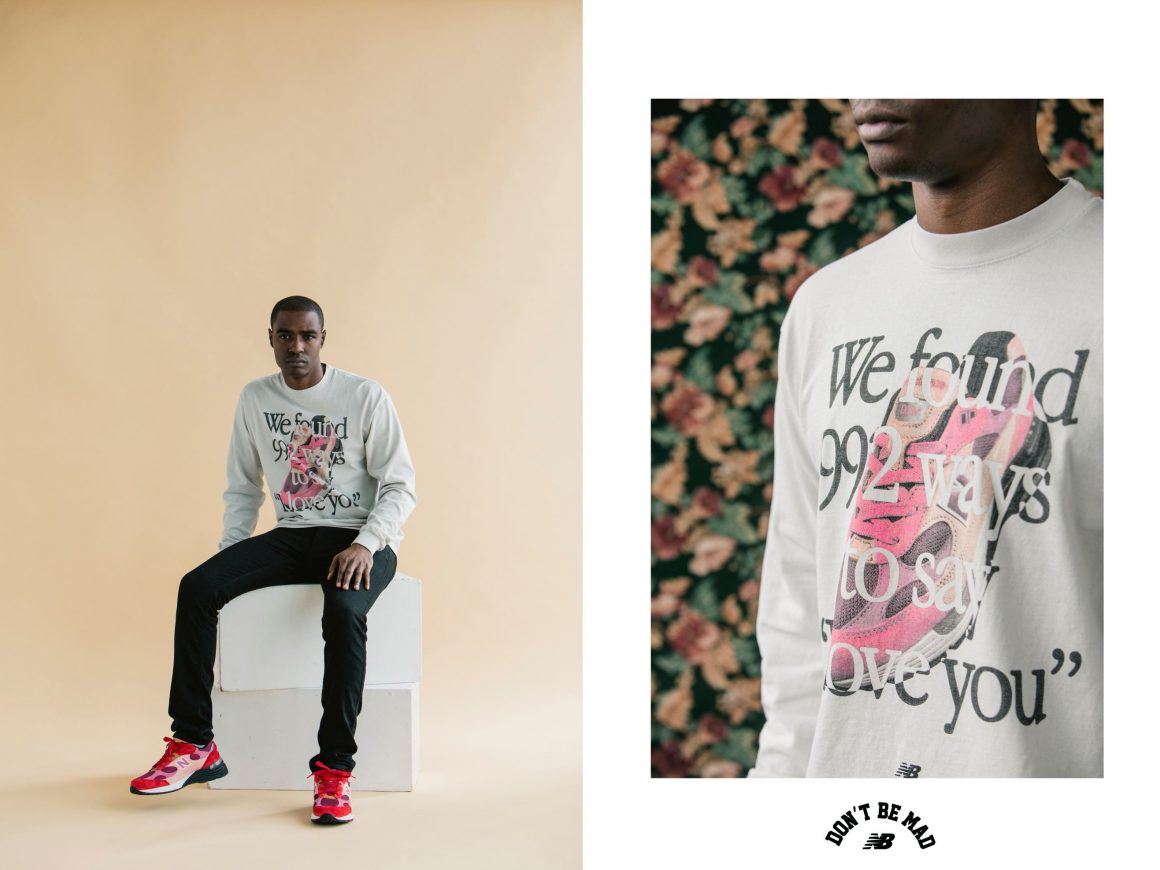 The Joe Freshgoods x New Balance "No Emotions Are Emotions" collaboration includes the made in America 992, OMN1S basketball shoe, and matching apparel including tie-dye sweatpants, jerseys, short sleeve and long sleeve T-shirts, and hoodies. Although the "No Emotions Are Emotions" theme represents the capsule, much of it is branded with "Don't Be Mad," which is another one of Joe Freshgoods' numerous brands. It will be sold exclusively at the Joe Freshgoods pop-up shop in Chicago and readers can follow @joefreshgoods on Instagram for more details.
More related articles: Dior collaborates with Air Jordan on Air Dior Sneakers, 7 chunky sneakers to add to your winter wardrobe right now, These converse sneakers handle fall weather with style.
MadeTrends is a fashion trend forecasting agency based in NYC. For your industry-specific 2020 forecast, please contact us.