Staple discusses the project in an exclusive interview.
jeffstaple and the Overwatch League have announced a new collaboration to create an authentic esports kit for gamers. "Each of the 20 Overwatch League teams will have their own unique home and away kits for the 2020 season," according to the league. The designs will utilize pin-dot mesh fabric for breathability and a lightweight fit alongside side gussets for adjustability. The full kit will include a short-sleeve jersey, long-sleeve jersey, and jacket for each of the league's 20 teams, which will utilize premium graphical applications. It will also include accessories like compression sleeves, hats, and beanies.
"I'm proud that the Overwatch League and Activision Blizzard Esports are leading the way by designing a highly-considered player performance-oriented esports kit," said Activision Blizzard Esports CMO Daniel Cherry. "We're excited to celebrate the launch of our 2020 season by spreading local esports fandom through our exclusive collaboration with jeffstaple. In February, our 20 teams will take the global stage in front of their hometown fans for the first time wearing this fresh Staple designed kit!"
In an exclusive interview below, jeffstaple discusses the process behind the kit's development and functionality, as well as the current trajectory of streetwear in esports.
What was the process behind developing these kits?
When it comes to designing fashion pieces, the trend and style come first. The functionality of streetwear is relatively simple for us. A tee is a tee. A hoodie is a hoodie. It doesn't change much year to year. But when I began designing jerseys, especially for a professional league, the functionality and performance elements come first and foremost. After we nailed down design specifications that the general consensus of the players liked; we then tackled the task of making the jersey's look dope. So it was definitely function first, form second.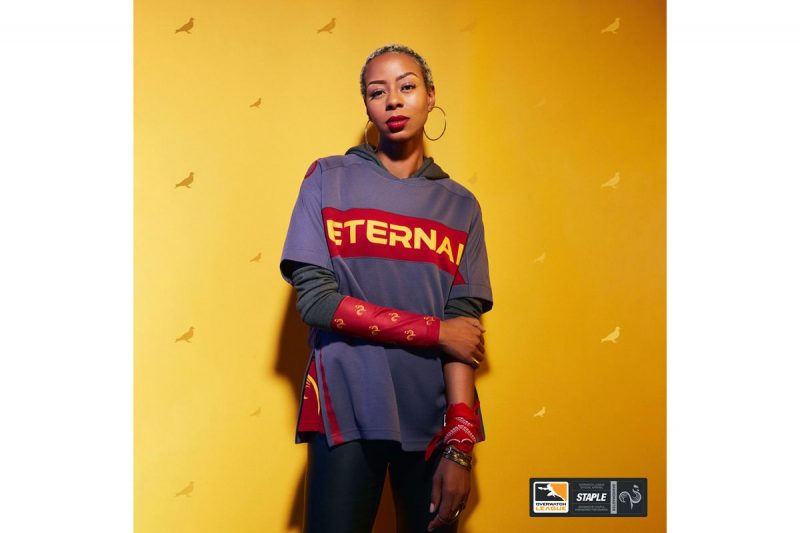 What kind of functionality do these kits provide players? When you spoke to players, what did they say they needed in a uniform?
Professional esports athletes have some very interesting challenges. They're probably the only athletes that sit in a heavily air-conditioned room for hours at a time. And they're always seated so there's very little overall physical movement. What that means is that much of your body is cool or even cold, yet, certain parts of your body are hot and muggy because you're just sitting there. At the same time, there are areas that experience extremely high-frequency rapid movements — like the hands, wrists, forearms, neck and head. So the material selection had to accommodate all these specific needs.
Two other things come to mind: comfort and flexibility. The styling and fit had to be comfortable. No one wants to sit for hours at a time in tight-fitting, constricted clothing. It's similar to when you're going to be on a flight. You want to be comfortable, breathable, yet warm where needed. On the fitting side, esports athletes are also unique because in other sports, body types are much more consistent and inline. Basketball players versus football players versus soccer players tend to have consistent physiques. Hockey players, after wearing all their pads, are also very consistent. But esports players come in all shapes, sizes and genders. So we had to make a kit that could accommodate all those shapes and sizes.
Why does esports intersect so well with streetwear?
The merging of gaming life and real life is inevitable. I think what they portrayed in the movie Ready Player One is going to be the reality. That being said, if it's hot in the streets, it's going to be hot on the screens. We've worked on projects with traditional sports in the past: soccer, hockey, baseball, football and basketball. But for them, we were working on a pre-described template that already existed. If I asked you to think of the uniform for each of those sports, everyone in the world can draw a picture in their mind and it would all be consistent.
But for esports and OWL, we actually had the opportunity to write that script. That was the most exciting part for me and it reminded me of the early days of street culture when there was no formula yet. We could be part of defining what proper esports apparel looks like for generations to come!
So starting from a completely clean slate, we referenced what was happening in street fashion more so than anything happening in esports apparel. And that's Staple's roots anyway, so that made sense. What we did need to keep from the traditional sports world was the idea that there is a team. There needs to be consistency between players and teams, and also the entire league. We had to create a design language that allows for individuality between teams, but consistency when you saw all 20 jersey's together. They needed to look like they belong to one single league. Much easier said than done!
---
Each of the 20 Overwatch League teams will have their own unique home and away kits for the 2020 season, which launches on February 8. Meanwhile, fans will be able to pre-order the new Staple x OWL jerseys beginning on January 28 with orders shipping at a later date.
Click here to read the full article.
More related articles: Why e-sports are emerging as fashion's go-to cultural reference, Virgil Abloh: Streetwear? It's definitely gonna die, Winter 2020 trends: it's time to develop your personal style practice .
MadeTrends is a fashion trend forecasting agency based in NYC. For your industry-specific 2020 forecast, please contact us.