The designer may have been snubbed for Accessory Designer of the Year, but this simple shopper is fashion history in 
the making.
What makes an 'it' fashion item? Is it when it dominates the Instagram explore page? When it graces the red carpet on the arm of a celebrity? Or when you can't move at a party, club, or Dazed HQ without bumping into one?
In the case of Telfar's Shopping Bag, more commonly referred to as just the 'Telfar bag', all of the above is true (and then some). As recognisable as an Asai Hot Wok top and yours for less than half the price of a comedically-sized (12cm!) Jacquemus Sac Chiquito, the Telfar bag has risen to become the year's definitive it-bag. But to put it in the same category as Chloé Paddingtons and Balenciaga City bags hardly does it justice: the work of a highly conceptual designer, and with a statement of industry-disrupting inclusivity sewn into every stitch, the Telfar bag represents much more than your average, eye-wateringly expensive tote.
But to back up for a second. Telfar, the label founded by designer Telfar Clemens, is not an out-of-nowhere Insta accessories brand; the fully-fledged fashion line has been around for well over a decade. "Become a queer, Liberian-American eighteen year old, travel back to 2004 and establish a 100% unisex fashion line in New York City," runs its official bio. "Try to make clothes that do not exist on the market – just as you don't exist in the world."
The designer, who once told us his aspiration was to be "Michael Kors, but on purpose", has long been using clothing to conceptually explore ideas of identity, ubiquity, homogeneity, America, and consumerism. He was doing genderless fashion before genderless fashion was a Thing, has held a pop-up at discount store Century 21, and designed uniforms for staff at fast-food chain White Castle. Working closely with creative director Babak Radboy, he's at the heart of a community that encompasses names like Solange, FAKA, Selah Marley, Ian Isiah, Ashton Sanders, and playwright Jeremy O'Harris. The label – which has crossed over into the art world with performances at the Serpentine and Guggenheim, and collaborations with Lizzie Fitch and Ryan Trecartin – also has a celebrity following, from Lil Uzi to Lil Nas X, and, in a rare establishment nod, scored the 2017 CFDA/Vogue Fashion Fund, a prize of $400,000.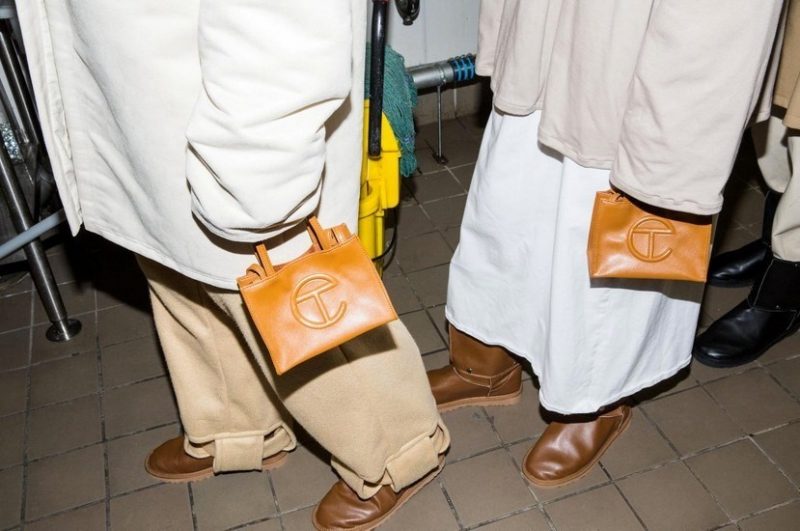 The designer may have been snubbed for Accessory Designer of the Year, but this simple shopper is fashion history in the making
But what about The Bag? A faux leather, simply silhouetted rectangular tote with handles and shoulder straps, it features Telfar's logo embossed on the front, and is available in three sizes. Despite its huge current popularity, it's not new – the piece was introduced way back at the AW14 show, with models even emerging from behind a giant version of it on the runway. In August 2014, when Telfar hacked this website, an image of the bag appeared on the site, rotating as readers scrolled. "It was Christmas 2013," the designer and creative director Radboy share, recalling the moment of conception. "(We were) just looking at everyone with their holiday shopping and thought it was so funny to think of that as a unisex silhouette. We literally measured a Bloomingdale's bag to make ours."
When Telfar won the Fashion Fund, the bag – "really a show concept more than a product" – was the first thing the brand focussed on improving, rereleasing it last year in a bigger range of colours and sizes, with prices ranging from $140 for a mini to $240 for a large. "It's practical and functional while being graphically interesting with the embossed logo and excellent material at an accessible price point," says Brigitte Chartrand, Ssense's Senior Director of Womenswear Buying, noting the bag has been popular with both menswear and womenswear customers since they introduced it for spring/summer 2019.
Avena Gallagher, who styles Telfar's shows, sums up the appeal: "It's affordable, it goes with everything, there's a colour and size for every situation, and everyone looks good in it." There's also the fact that the bag's mini iteration has played into the Instagram-friendly tiny handbag trend, as propelled by Jacquemus. "The small size has especially performed well," confirms Chartrand. "This season we offered two sizes, in black and white colourways; and from its success, we're excited to introduce a third size next season and more bold colourways." The bag has been a big boost for the brand's sales: from $100,000 a year to $1.6 million over the past two years, according to an article in the WSJ. "It's really what runs our business," Clemens and Radboy say. "We sell it all day every day, and stores re-order all season."
So, who's actually buying it, and, more importantly, why? A recent Twitter thread holds some answers. After user Antoine Gregory posted a picture of himself and his large shopper, he invited other wearers to post their own. Mostly young, black, and unquestionably stylish, people replied with images that incorporated the bags effortlessly into their outfits – from matching pink cord suits to neon going out looks.
"I have been following Telfar since 2012. I was graduating from F.I.T. and realised very quickly that there weren't going to be many designers of colour I could work for," Gregory says. "The Telfar bag represents a shift in fashion and in black culture. The CFDA win said to many black and brown boys and girls that you can exist here, too. For me, it's important that I support black designers and that we continue to do so – (the thread) stood as further proof that if the product exists, we will buy it – in all the sizes."
One of the first to respond to his call-out was Shelby Ivey Christie, an ex-Vogue staffer, host of the Black Fashion Podcast, and future curator with a must-follow Twitter which unearths important moments in black fashion history. Christie, who "jumps at any opportunity to patron black-owned businesses", says she first became aware of Clemens through the CFDAs. "I was excited to see someone who looks like me step into the fashion space as a designer at the helm of his own label. We so often see black people, particularly black queer folks, behind the scenes in fashion. Seeing him out front was amazing and this is what drew my interest."
— Shelby Ivey Christie (@bronze_bombSHEL) July 24, 2019
When it comes to inclusivity, Telfar isn't a brand paying lip service; the clothes are created from and speak directly to ideas of identity, primarily being young, a POC, and queer in America. (And beyond – @telfarglobal is the brand's Instagram handle.) It has a kind of integrity and authenticity that most brands could only dream of. "(The bag) captures the fluidity of a crowd who are not really interested in what the fashion pages are saying. They make and break their own trends," notes writer Antwaun Sargent. "I have generally seen a certain generation of QTPOC wearing the bag downtown and in Brooklyn. It's like the first it bag to truly represent who they are. It makes them feel something."
Affordability is a big part of that. The pieces are a fraction of the cost of bags from Gucci or Prada, both brands which have come under fire for products which resembled blackface imagery, as well as, in Gucci's case, appropriating the work of a black designer – as with the Dapper Dan situation. Other brands, meanwhile, have been keen to make themselves appear more diverse through campaigns and celebrity partnerships, without those changes being reflected behind the scenes. "The work Telfar does as a designer is important because he brings much-needed representation in an industry dominated by people who do not look like us but profit from our image," adds Gregory.
 "I have generally seen a certain generation of QTPOC wearing the bag downtown and in Brooklyn. It's like the first it bag to truly represent who they are. It makes them feel something." – Antwaun Sargent
Despite the Fashion Fund and the bag's stratospheric popularity, the establishment has been slow to catch up. Although Telfar was nominated for Accessory Designer of the Year at the 2019 CFDAs, in a truly head-scratching decision, the brand lost out to Mary-Kate Olsen and Ashley Olsen of The Row. The Awards are determined by votes cast by industry insiders, and as pointed out on Instagram, all the winning designers were white. The Row's bags, meanwhile, range from £975 ($1,185) to £37,275, or over $45,000 – the price of 323 Telfar mini bags.
Christie describes what Telfar has created as "a mini-study on classism and race in fashion", noting that it brought "accessibility to luxury. A taboo" – and one it seems not everyone is as keen on breaking. "The Telfar bags are at a super accessible price point which allows for a younger, more multicultural consumer base to attain them," she says. "It's turning the idea that luxury is synonymous with exclusivity on its head. It's a lesson in how access can be granted or kept from certain groups in order to maintain the outdated idea of 'luxury' products."
"The bag is simple but you really can't compare it to anything in fashion," admit Clemens and Radboy. "Handbags, in particular, are this thing that is supposed to be an economic status indicator. Like – I'm 25 or 30 or 40 and I'm doing OK. We have a status bag that has nothing to do with that." The status isn't about money: it's about identity, about experience, about how it feels to move through the world. "I think the bag represents disruption," surmises Christie. "Not only from a black perspective – this black, queer, man has stepped into a very white, elitist, space and is growing and thriving in it. Disrupting the white nepotism that has long existed in the fashion industry."
"Handbags, in particular, are this thing that is supposed to be an economic status indicator. Like – I'm 25 or 30 or 40 and I'm doing OK. We have a status bag that has nothing to do with that" – Telfar Clemens and Babak Radboy
The bag is the most visible symbol of the shifts that have transformed fashion over the last decade, as, thanks to social media, power, representation, and influence have shifted away from traditional hierarchies and allowed for those with marginalised identities to take up space previously denied them. "The fact is – a few years ago there was no genderless, accessibly priced, black-owned bag, period – and also there was no one to wear it," Clemens and Radboy continue. That's all changed, and is continuing to evolve: "The bag and the customer are meeting in real-time – and that customer was not a person you really saw pictures of a few years ago in fashion. That customer is actually us – if you look at how people post pictures with the bag and we repost them – it's cute but it's also a live struggle for visibility – and we are in it together. I think that's the power of the bag."
Read the article on Dazeddigital.com
More related articles: Roger Federer is the most stylish man of the decade, The most important pieces of 2010, What goes around comes around to collaborate with eBay.
MadeTrends is a fashion trend forecasting agency based in NYC. For your industry-specific 2020 forecast, please contact us.