The artistic director of Louis Vuitton menswear on the last ten years – and the next
Deep fakes, influencers, viral fashion – we live in a world unrecognisable from the one we stood in ten years ago. As a chaotic decade comes to a close, we're speaking to the people who helped shape the last ten years and analysing the cultural shifts that have defined them. Explore the decade on our interactive timeline here, or head here to check out all our features.
Ten years ago, Virgil Abloh, then working as a creative director for Kanye West, was one of a group photographed outside a Comme des Garçons show in Paris. Their outfits, which included Goyard briefcases, colourful thick-rimmed glasses, and leopard print trousers with cowboy boots, inspired a wave of internet scorn, much of it homophobic. There was even a skit on South Park.
In June 2018, I saw some of that same group reunite backstage at Abloh's debut show as Louis Vuitton's artistic director of menswear. In a video I took, Abloh embraces Ibn Jasper, whose blog about the backlash to the 2009 trip remains online. "What we are actually doing, is showing the fashion world that American men, let alone Black Men, know how to really get busy when it comes to the fashion game," he wrote. "We can't be erased," Abloh says as they hug. He smiles the smile of a man who has fought to be there, an outsider no longer.
If you hadn't been following his path from Pyrex Vision (the 2012 clothing project which consisted largely of stamping 'Pyrex' onto Ralph Lauren flannels) to #BEENTRILL# (a collective that also included Matthew Williams of Alyx and Heron Preston), Off-White (which released its first collection for AW14) and finally LV, Virgil Abloh appeared from nowhere. To some, he was another of the decade's scammers – a man they'd never heard of with the audacity to slap quote marks on everything and call it fashion. To others, he was a prophet: proof that streetwear deserved respect, proof that a black man with a non-traditional path into the industry could land one of its biggest jobs.
Whatever your personal opinion on his work, Abloh's success has been undeniable, with Off-White frequently nabbing the #1 spot on the Lyst Index of the hottest brands in the world. Sure, popularity doesn't equal prestige, but Abloh's power lies in communication, the ability to develop a visual design language for the social media era, one of arrows, black and yellow Hacienda stripes, and of course, those ubiquitous punctuation marks – all things that stand out when you scroll. He's made Nike's biggest collaborative shoes, rugs with Ikea, water bottles with Evian, suitcases with Rimowa, perfume with Byredo – the list goes on (and on).
But what does the future of fashion hold for the man whose fame and fortune comes largely from logomania? The answer might surprise you.
Youth and pop culture provocateurs since 1991. Fearless fashion, music, art, film, politics and ideas from today's bleeding edge. Declare Independence.
Where I want to start is actually 2009, with that famous Tommy Ton fashion week photo. How do you feel about it now?
Virgil Abloh: If you look at it in 2019, it predicated the idea of the democratisation of fashion. It's like those inspirational quotes that say, you know, 'You get made fun of and then in the future everyone adopts what they were making fun of'. That was one of the very first modern fashion images that just went everywhere. It said that those who love fashion are just as important as the industry itself. It spoke to the power of self-produced images – Jak & Jil was a blog that Tommy Ton had, he was one of very few fashion photographers outside of shows. That image was a collaboration between his following and us and it existed before my whole career in a way.
How did the fashion industry feel to you then – how welcoming was it?
Virgil Abloh: It wasn't particularly welcoming but the irony was that there was no security at the door of that Comme des Garçons show we wanted to get into. It was almost like, 'Why would you come to a fashion show?' It would be like walking into some random hotel conference for doorknobs and sitting down.
"The irony was that there was no security at the door of that Comme des Garçons show we wanted to get into. It was almost like, 'Why would you come to a fashion show?' It would be like walking into some random hotel conference and sitting down" – Virgil Abloh
Did that first Vuitton show feel like history as it was happening?
Virgil Abloh: It's a funny question because to keep up my work rate I never stop and I never look back, ironically I'm taking a sort of break now. It felt like it was probably one of like, three (most) fulfilling moments in my career. That I got to a space and I got to a loud enough megaphone to say in an abstract way exactly how I feel. To me it was about making like an art piece of fashion, using the megaphone that is Louis Vuitton, one of the oldest brands in Paris, to have the first models that came out, look like me, dressed in all white on a prism coloured runway show in daylight. I wanted to make a statement and use the clothes to power that and I feel fulfilled that that body of work came out the way it did and when it did.
I think that you represent a modern proposition of a fashion designer, compared to this preconceived idea of what a designer is. How do you think that the idea of a fashion designer has changed over the last decade?
Virgil Abloh: You know, I grew up in the 80s and 90s and in that generation we had our own idea of what a fashion designer is, and we had our own idea of what a musician was – people would say that hip hop is just sampling, that it's not even like, playing the piano… As a fashion designer I've had enough of a thick skin to explore and make (it) something of my own.
I believe being a fashion designer is selling it short if it's just limited to making clothes. A piece of clothing is more important than the fabric it's made of – it's representative, it means something. It says something about a generation, a brand… when I think of fashion brands, I immediately think of like, United Colours of Benetton or Ralph Lauren, or Margiela – just say a brand or say a designer and it takes you to a different place because everything they did embodied something. That to me is what a fashion designer is today, not simply the antiquated version of what the term means.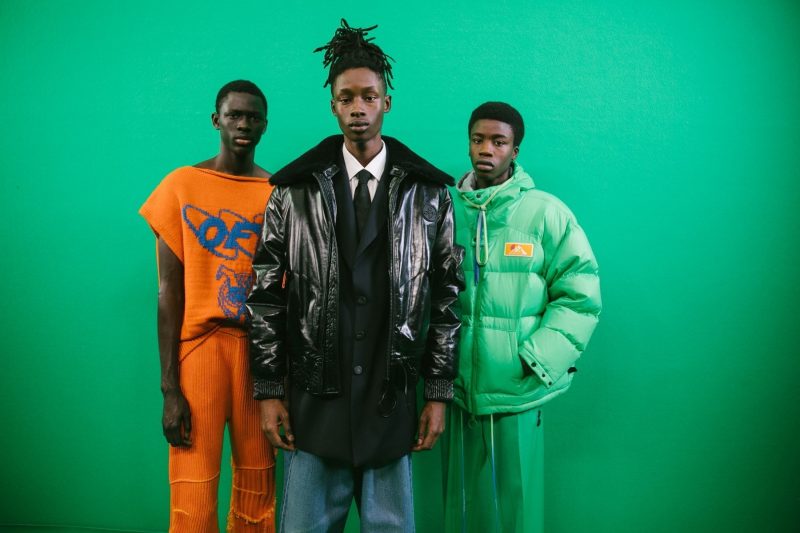 What do you think will happen to the idea of streetwear in the 2020s?
Virgil Abloh: Wow. I would definitely say it's gonna die, you know? Like, its time will be up. In my mind, how many more t-shirts can we own, how many more hoodies, how many sneakers? I think that like we're gonna hit this like, really awesome state of expressing your knowledge and personal style with vintage – there are so many clothes that are cool that are in vintage shops and it's just about wearing them. I think that fashion is gonna go away from buying a boxfresh something; it'll be like, hey I'm gonna go into my archive.
"(Streetwear is) gonna die, you know? Like, it's time will be up. In my mind, how many more t-shirts can we own, how many more hoodies, how many sneakers?" – Virgil Abloh