Eilish's signature oversized style makes headlines once again.
Entering her fourth year on the music scene, 18-year-old Billie Eilish is rapidly solidifying her style and sound all over the globe. With 2020 freshly underway, her fans already have something to be excited about – H&M'S new Billie Eilish merch collection which is available worldwide as of today (online and in all stores within the Divided concept).
The collection mimics the young star's signature oversized style in the form of tees, hoodies and sweatpants, and includes accessories like socks, hats and a belt bag. The pieces are finished with graphic logos and in colourways of bright green, black and beige in keeping with Eilish's aesthetic.
"We're super excited about this merch collection drop. Billie Eilish is obviously an inspiring artist, but also someone a lot of people around the world admire for her personal style and empowering way of expressing her values," said Emily Bjorkheim, H&M's head of design for Divided. "We want to enable her fans to step into her world and feel empowered to freely express their style as well."
With almost 50 shows lined up in 2020, Eilish's fans can attend the performances dressed in likeness of the pop singer, and play a part in her effort to live more sustainably as the pieces in the collection have been made using sustainably sourced materials.
Eilish's upcoming world tour is aiming to be as eco-friendly as possible. "There will be no plastic straws allowed, the fans are going to bring their own water bottles. There's going to be recycled cans everywhere, because it's like, if something's recyclable — it doesn't matter unless there's a recycle bin," she said last fall on The Tonight Show Starring Jimmy Fallon.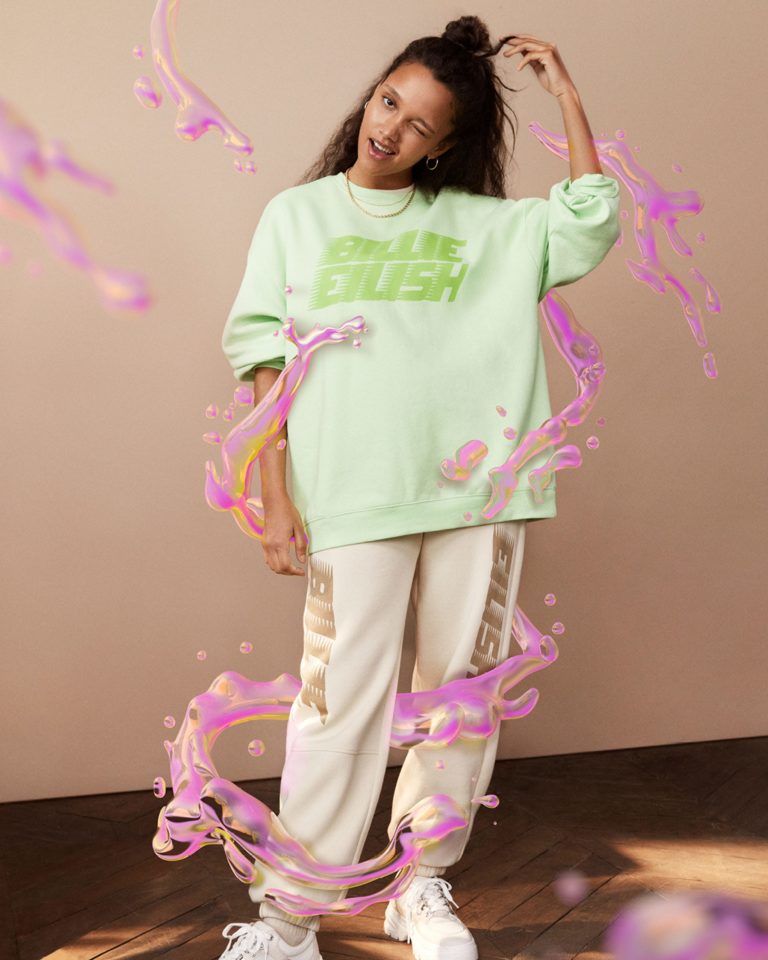 The new merch collection also features 3D effects created by trailblazing artist and art director Ines Alpha, whose work is referred to by the retail giant as "revolutionary" and the "future of beauty". The Paris-based artist's surrealistic work is seen in the campaign photos, videos and custom-made Snapchat filter.
"I'm trying to push the boundaries of beauty and makeup by trying to offer more possibilities for self-expression. And with 3D it's pretty much endless – for the H&M Billie Eilish merch campaign, I wanted to work with liquids from another planet, floating around the models and bringing colours and fun to this augmented world." Ines Alpha said in a release.
Shop the merch collection here.
Full Story at Fashion Magazine…
More related articles: Field notes: Seasonal sustainable solutions, Mulberry just launched a 100% sustainable handbag, The sustainable fashion brand urges shoppers to "do more with less".
MadeTrends is a fashion trend forecasting agency based in NYC. For your industry-specific 2020 forecast, please contact us.