Prior to Bodega opening up its Boston shop in 2006, the store's co-founder, Oliver Mak, says in the early 2000's Diesel influenced what Bodega would come to be.
"Pretty much all of my friends who are musicians or artists were fed by or got free jeans form the Diesel shop in Boston from around 2001 to 2004," says Mak. "They informed a lot of music and art that was happening when we were still gestating and ideating Bodega. They were the brand doing a lot of culture stuff."
Mak says this why Bodega signed on to work with Diesel—it's the first time Bodega has brought its bodega store concept, which has been copied by larger retailers and brands over the years, into someone else's retail space. Named The Unofficial Basel Gift Shop, which is located in the Miami Design District at 120 NE 40th Street, the store sits on the same block as an Alchemist pop-up, and Hello, Miami, a retail activation from Colette's Sarah Andelman.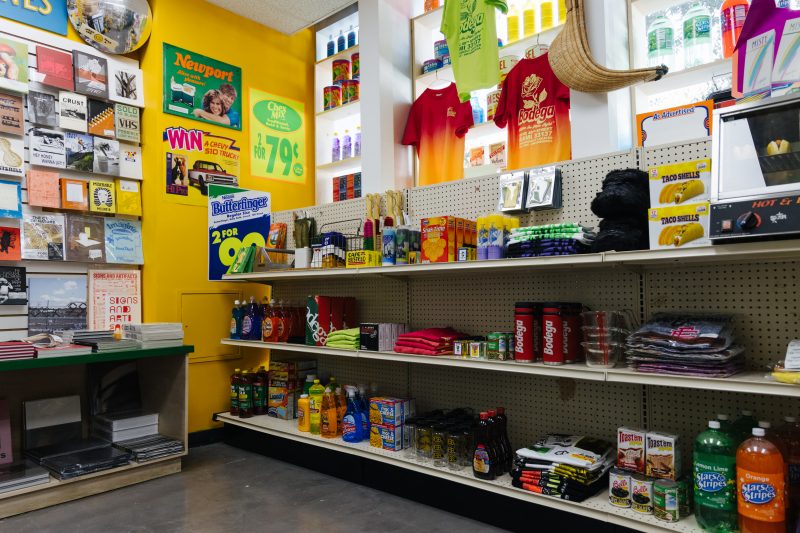 "It's hard to not know them," says Stefano Rosso, the chief executive officer of Diesel North America, when asked about how he discovered Bodega. "They are really one of the coolest retail environments in the United States and we thought they could be the perfect partner for us to do something interesting for our younger consumers."
Rosso says this is a part of an ongoing White Box experiential retail series that Diesel has run over the past year. Miami is Diesel's third major hub in the U.S., after New York and Los Angeles, and Rosso says opening during Art Basel, which also included store openings from A Bathing Ape, and Unkwn, a sneaker and streetwear store owned by LeBron James, made sense.
Diesel is speaking directly  to that market with this space, which is stocked with pieces from Bodega's private label that includes some T-shirts exclusive to Miami, product from the Diesel Red Tag x A-COLD-WALL* capsule collection, which will be available to purchase on Dec. 7, a line of stonewashed basketball shorts designed by  Eric Emanuel, and limited edition product from Miracle Seltzer, Ekua Ceramics, Eunbi Ceramics, Putpet, Jane Park, Puebco, Krink, Mr. Green, PRMTVO, and MYAR. Bodega's collaboration with Dr. Martens will also be available.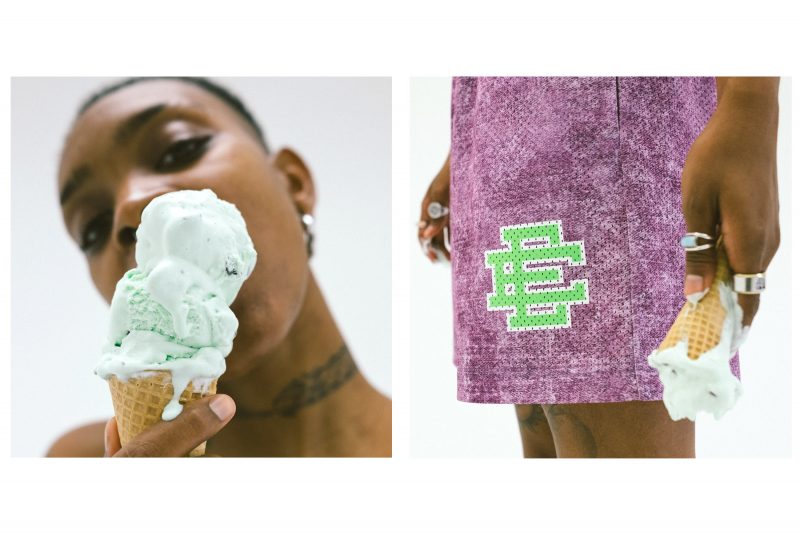 But beyond product, Rosso says it's important to provide an experience with programming and customization.
"This type of exercise is more of a communication and marketing tool than anything else," says Rosso. "Today, customers don't really expect to go to a store to see simply product. They want to have an experience. So we try to deliver an experiential moment where you find out the brand is there, but it's almost the last step of your journey."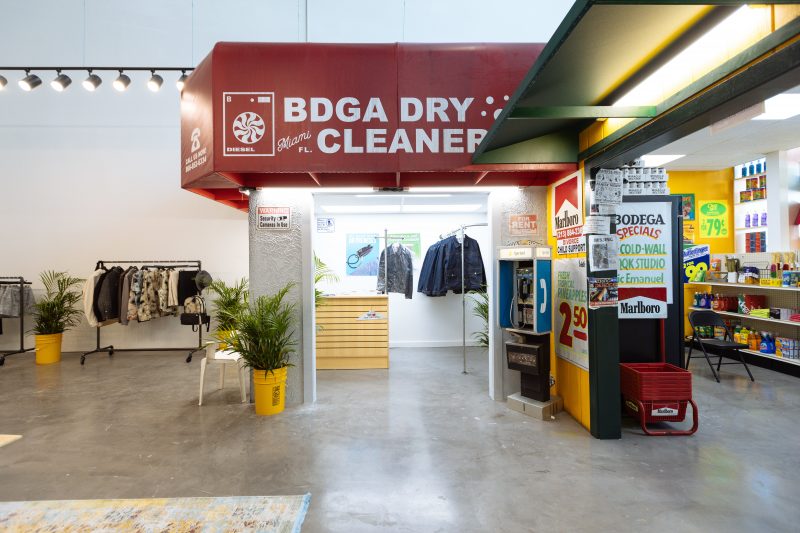 On Friday and Saturday, the first 20 people who visit the store can customize a Diesel denim jacket—in a faux dry cleaners space—for free. Visitors can also screen print T-shirts with graphics provided by LQQK Studios, a print studio based in Brooklyn. Bodega has brought in artists from Isla Berlin, a nail shop based in Germany, to do complimentary nail art and tooth gems, and free tattoos will be provided by Rustle Tattoos. This programming will take place through Saturday. In the midst of all this will be Bodega's Pirate Radio Sessions that will feature sets from people like Tyler Kpakpo, Just Dimy, and Gianni Lee.
Diesel is working hard to reach customers in a variety of ways. The day before the pop-up opened, Renzo Rosso, Diesel's founder and president of the OTB Group, which recently invested in Amiri, and Andrea Rosso, creative director of Diesel Licenses, fielded questions about Diesel Living's latest project, condominiums in Miami's Wynwood neighborhood that are outfited with Diesel home products and furniture from its licensing partnerships. The building is designed by Zyschovich Architects and developed by Bel Invest Group, an international real estate developer.
"It's the most difficult thing," says Stefano when asked about trying to balance niche initiatives with more mass ones. "You can do it when you are true to yourselves and your values as a brand and you don't try to overexpose yourself in a way that doesn't make sense. If we don't feel 100 percent sure about the collaboration we don't do it."
Bodega is also working on balancing growth with remaining cool. After only operating a store in Boston for over 10 years, they opened a Los Angeles store in 2018, and according to Mak, there are plans to open another store in an undisclosed location soon.
"It's a continual, endless upward trajectory and I cannot believe we get to be apart of," says Mak about the growth of streetwear. "For it to be fully adopted in the highest levels of fashion and keep mutating while maintaining its essence of rebellion and counterculture, and to see people we respect be put in positions of power? That's the whole point."
The Unofficial Basel Gift Shop will be open through Dec. 30.
More related articles: Farfetch's Next Move,  Nuuly, and the Apparel Rental Market, Joann Pailey Head of Content and Marketing with Altuzarra
MadeTrends is a fashion trend forecasting agency based in NYC. For your industry-specific 2020 forecast, please contact us.