Hank Willis Thomas strives for "Unity" in his public artwork at the Brooklyn Bridge.
Standing at the newly constructed intersection of Tillary and Adams Streets, near the exit from the Brooklyn Bridge, is a new, 22-foot bronze arm with the index finger pointing skyward. Commissioned by New York City's 
Percent for Art
 program, the permanent sculpture was created by 
Hank Willis Thomas
 and is titled "Unity" (2019). Is this outstretched arm a new greeting at the threshold of Brooklyn, like the Statue of Liberty in New York Harbor?
Giant arms and hands aren't a new thing in public sculpture. Head to Rome and you can see a giant right hand, originally from a 4th-century A.D. colossal sculpture of the Emperor Constantine. Paris has (finally) Jeff Koons's 41-foot hand holding a bouquet of tulips, his tribute to the victims of terrorist attacks. If you visited Trafalgar Square in London in recent years, you could gaze upon David Shrigley's "Really Good" (2016), a sculpture of a hand with the thumbs-up gesture — with the thumb grotesquely disproportionate to the hand, suggesting everything might not be supergood in Brexit-era London.
Mr. Thomas's "Unity" is more polite than Mr. Shrigley's sculpture. Muscular and appropriately proportioned, it suggests the arm of an athlete, echoing a smaller sculpture of an arm spinning a basketball on the tip of a finger that Mr. Thomas conceived in 2015. That work, called "Liberty. " inspired by a photograph of a Harlem Globetrotter and cast from the arm of one-time NBA All-Star Juwan Howard, is now in the Brooklyn Museum. Over the course of his career, Mr. Thomas has created other sculptures of hands and arms, with titles like "Promise" (2016).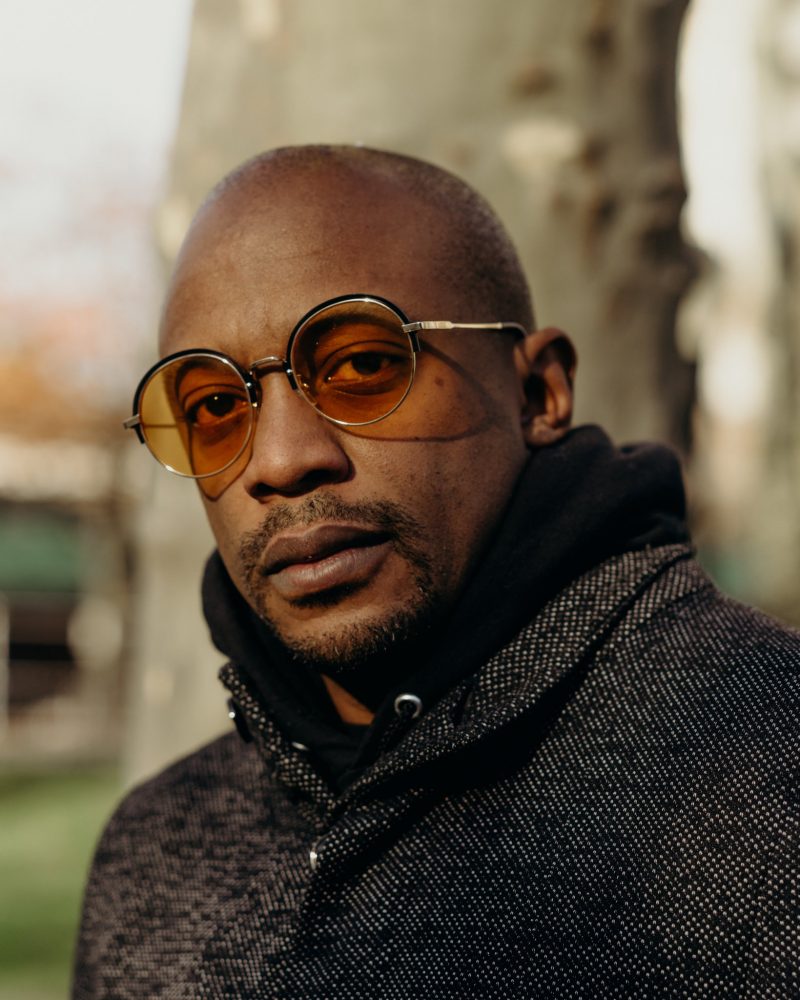 Sports and the black body have been in the center of Mr. Thomas's work since he began exhibiting photographs a decade and a half ago that showed shaved heads or chests branded with Nike logos. (He also created series of photographs in the vein of appropriation artists like Richard Prince, who rephotographed advertising imagery). Mr. Thomas, who studied photography at 
New York University and worked in commercial photography and television
, brings to attention the way products are marketed to African-Americans, as well as the historical lack of representation of black people in the mass media.
Mr. Thomas's move into sculpture, though well-received, has been, to my mind, much less exciting. The sharpness and astuteness of his photography is often absent from three-dimensional objects, particularly the large-scale works that mimic sculptors like Claes Oldenburg and Coosje van Bruggen, who created outdoor installations based on everyday objects. Mr. Thomas takes this formula and overlays it with African-American motifs, like an Afro-comb stuck in the ground, titled "All Power to the People," which has appeared in Philadelphia and at Burning Man.
The best project in recent years by Mr. Thomas — and one that strives for actual unity — is "For Freedoms," founded in 2016 with Eric Gottesman as a "platform for civic engagement. " It produced collaborative exhibitions, installations, public programs, and billboard campaigns across the country. Inspired by Norman Rockwell's 1940s paintings of Franklin D. Roosevelt's Four Freedoms (freedom of speech, freedom of worship, freedom from want, and freedom from fear), the billboards created through this project utilize Mr. Thomas's photographic and advertising acumen in a smart, productive way. (Mr. Thomas lives in Brooklyn and is married to Rujeko Hockley, a co-curator of the last Whitney Biennial).
Politics has often been the point in public sculpture from ancient Rome to Mr. Oldenburg's earliest public works, such as a phallic lipstick wheeled like a tank onto the campus of Yale University during the Vietnam War, to Mr. Shrigley's absurd thumbs up.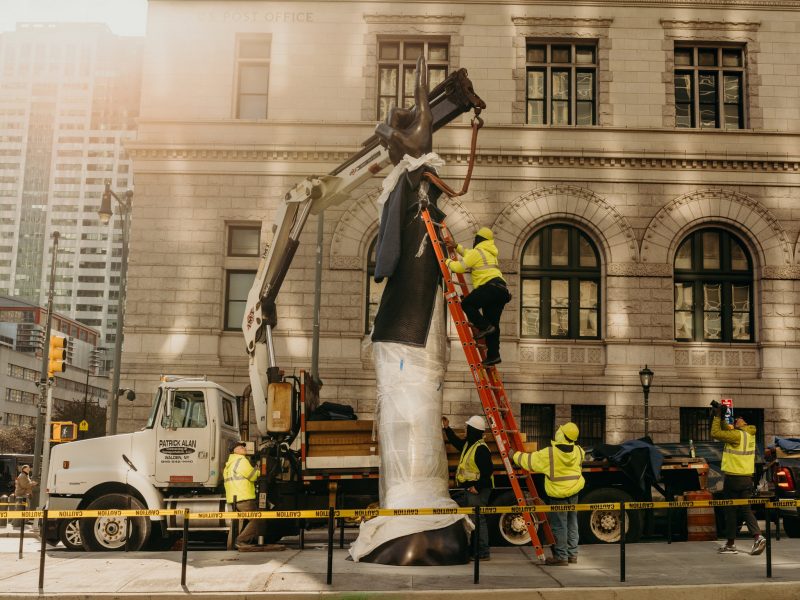 "Unity" was originally called "We're No. #1," a more assertive title, perhaps recalling the historical competition between the boroughs that reaches back to the 19th century. "Unity" is a traditional and fairly conservative work, accompanied in the official news release by a statement that sounds politician-worthy: "This sculpture is a homage to, and celebration of, the unique and multifaceted character of the borough of Brooklyn," Mr. Thomas says. "The spirit of Brooklyn has always been about upward mobility and connection to roots."
Perhaps Mr. Thomas is saluting the new Brooklyn — the one of rising property values and more anodyne art. A raised fist, like the black power gesture at the 1968 Olympics that inspired and galvanized so many people, appears on the handle of Mr. Thomas's comb sculpture, "All Power to the People." That bold attitude feels more like the Brooklyn of yore.
Not having walked the Brooklyn Bridge in several years, I decided to cross on Saturday after seeing "Unity" installed. When I reached the Manhattan side there were vendors selling tchotchkes, including a sign that said, "No Stupid People Beyond This Point." As a longtime resident of Brooklyn, I would be perfectly happy to have a 22-foot bronze sign with that message posted at the entrance to Brooklyn.
Make that a 100-foot sign.