Getting a good night's sleep is a luxury — and can come at a high price.
While serving as a guest speaker during a dinner thrown by the Economic Club of Washington, Amazon CEO and noted rich person Jeff Bezos shared one of the secrets to his success: lots and lots of sleep.
"I go to bed early," Bezos said. "I think better, I have more energy, my mood's better."
It makes sense that the world's wealthiest person puts such an emphasis on his beauty rest. Sleep is now a luxury pastime, and one that's evolved into a bona fide economy. In the sleep economy, products are developed with scientific fervor, materials are upscale, and the technology is sophisticated, slick, and supposedly effective.
This industry, which now includes high-end pajamas, moisture-wicking bed linens, and extravagant gadgets, makes anywhere between $30 billion and $40 billion annually, according to the consulting company McKinsey. BCC Research believes that when you calculate the profits big pharma makes off medication, sleep products will earn $76.7 billion globally by next year.
Sleep has been around since the beginning of time. But the category that set off the sleep boom was mattresses — specifically direct-to-consumer mattress companies like Casper, Leesa, and Tuft & Needle, which has had McKinsey proclaiming that "there are billions of dollars stuffed into the mattress!"
Mattresses are a $15 billion industry alone, and there are now more than 178 digital mattress startups that come delivered in a box. (Amazon, never not one to sit out on an attempt to take over an industry, just debuted a mattress line of its own.) Casper is largely responsible for kick-starting this mattress-in-a-box craze. It's made more than $600 million in revenue since its 2014 debut and even has industry giants like Mattress Firm filing for bankruptcy, as it struggles to compete with a nimble business model like Casper while Mattress Firm's is bloated with 1,300 stores.
But Casper is ready to move beyond the mattress. The company knows a mattress isn't something a customer purchases very often. The ability to sell sleep, on the other hand, is seemingly limitless.
The sleep economy has expanded past our wildest dreams. Companies are now successfully cashing in on "turning the bedroom into a sleep sanctuary," as McKinsey referred to it. Customers aren't just spending money on sleep products to sleep better — they're spending on them so that they will live better. Or so they are told.
---
Deep in San Francisco's Mission District, inside a warehouse that's home to Casper's product development center, there's a giant bin of disheveled neck pillows.
Jeff Chapin, one of Casper's co-founders and chief product officer, is rummaging through the bucket one summer afternoon, trying to find the one that aggravates him the most.
"These pillows make absolutely no sense," he says, holding up a blue velvet one to demonstrate, wrapping it around his neck. "They don't give you the neck support that you need, and they kind of just sit there, doing nothing."
Casper's team has just spent the past few months developing a travel pillow, and in the process, they reviewed every sort of terribly useless pillow shape on the market. The fruits of their labor are the Casper Nap Pillow: a miniature square white puff that comes packaged in a cute cardboard tube. The pillow, which sells at Casper stores, on its website, and on the Target site for $35, frankly looks like a pillow chopped in half — and that's because it basically is.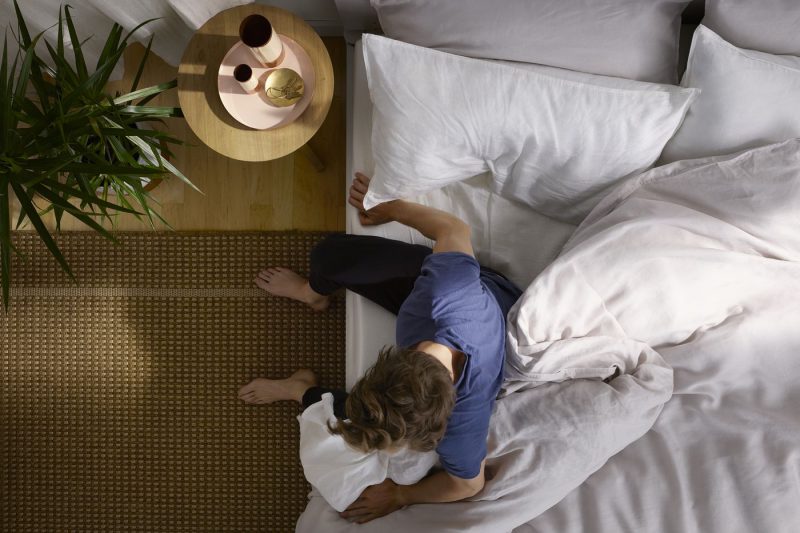 "The team of engineers working on the project were stumped until one decided to cut a pillow and work from there," he says.
Casper has about 50 engineers of all flavors working inside this warehouse, testing out products both practical and obscure as they attempt to find Casper's next big thing. The company started selling pillows, blankets, and sheets in 2015, and it's constantly tweaking these products. It recently debuted furniture. The company plans to open 200 stores across the country in the next three years, and Chapin says the company is developing "sleep tech and other important gadgets that affect the ambient environment."
"There are so many products that can use new thought, from sheets to bed frames to the environment of sleep," he says. "We've always been a company that's been focused on sleep, and mattresses were our foundation. It's a good place to start, from a business point of view, but sleep is so much more interesting than just mattresses."
Casper has plenty of muscle for the type of research and development that goes on inside this warehouse. It's received $239.7 million in funding to date. But it's not the only one with its eyes on conquering the sleep economy. In fact, even with all its name recognition in the mattress space, Casper is hardly the first choice for selling sleep accoutrements. These days, there are countless brands looking to elevate the mundane pillowcase and bedsheet set, according to the research firm NPD.
"There are countless brands looking to elevate the mundane pillowcase and bed sheet set, which has led to customers spending an annual $13 billion on bedding."
Brooklinen, a "luxury bedding" brand that was started by husband-and-wife duo Rich and Vicki Fulop as a Kickstarter in 2014, now makesover $25 millionannually. The company started off selling Egyptian cotton sheets with high thread counts (king sets sell for around $258), but the company has since expanded to blankets, towels, and candles.
Parachute, another big bedding company that launched in 2014 and that Instagram loves, now including plush bathroom linens, baby products, and laundry detergent sets. The company has several stores, and ran abranded hotelin California at one point, which charged $600 a night (it's no longer open).
There's Boll & Branch, another bedding startup, which promises "the world's most comfortable sheets and pillows" and is openingstores around the country with zero inventory. Coyuchi, a 26-year-old San Francisco bedding brand, recently launched aNetflix-esque model for bedding; it wants customers to pay a monthly fee to get new bedding every six, 12, or 24 months.
Linens are just the beginning. As McKinsey notes, part of the success of the sleep economy is that these brands encourage people to buy things that will build out the entire sleep experience. Pajamas — or, as the industry would prefer you call it,sleepwear— are another piece of the overall lifestyle. Shoppers now spend $7.8 billion on sleepwear, an 8 percent annual increase, according to NPD. Companies these days hawk high-end sleepwear as a necessity for better rest. Sleepy Jones, a luxury pajama brand started by Andy Spade (husband of the late Kate Spade), for example, has developed such a following, it's been dubbed theLululemon of the pajama industry.
While Sleepy Jones makes $200 cotton pajama sets, other contemporary sleepwear brands are appealing to customers by debuting innovative fabric.Lusomé, a Canadian luxury sleepwear company, uses fabric that it says has "innovative moisture management technology." Its $80 nighties, for example, are made of Xirotex, a new fabric that fights moisture, bacteria, and odor and is said to begood for menopause. Last year, Under Armour teamed up with Tom Brady forsleep-boosting pajamasthat help athletes "recover." The British sleepwear brandReclinermakes nighties that look exactly like your dad's oversize tee, except it can charge a premium because it's made out of Japanese satin, which is machine-washable.
Ashley Merrill, the founder of the California-based sleepwear brandLunya, says fabric innovation in the sleep space is very real. Lunya's latest "sleep cooler" collection, for example, is made of proprietary Pima cotton that's woven with TransDry and XT2 fibers, which are said to dry up sweat faster.
Merrill points out that her brand launched before the "Casper explosion" but admits that "there's an incredible opportunity in sleep. All of our fabric innovation is to serve our customer in ways she'd never dreamed of, because people are finally realizing that sleep is worth celebrating."
Tech, of course, has been eager tocash in on the boom: Sleeping apps dominate the app store, likeSonicSleep, which sells an AI sleep assistant for $19.99 a year, orCalm, where you can listen to soothing bedtime stories, orBob Ross's voice.
Sleep gadgets have an entire universe of their own. TheMotiv ringis a "stylish" fitness and sleep tracker that sells for $200.Beddr's SleepTuner, a $150 sleep tracker coming out this October, is the size of a stamp and is worn on the forehead; it's already been listed by the FDA as an item that understands sleep. Fitbit's wearables now track sleep and pledge to diagnose issues, and Apple's iOS gives the iPhone several ways to track sleep too. (Last year, Apple alsoquietly bought Beddit, a Finnish sleep tracking hardware company that makes a $150 sensor you place under your mattress.)
At this year's annual Consumer Electronics Show, in Las Vegas, one brand debuteda robot that breathes like a baby, which you can spoon, for $549. Another introduced a $150 bedside lamp, theAromarest, that releases melatonin and aromatherapy. Over the summer, Bose debuted wireless sleep earbuds, whichplay soothing soundsinto your ear for $250. Arianna Huffington has emerged an evangelist on how of sleep is important and accessible to everyone; her company Thrive sellsa bed for your phone, for $65.
---
Like a true luxury category, the agenda of the sleep economy is to sell things you never knew you needed. And a key component in why shoppers are spending, a report from CB Insights notes, is because sleep is now "hailed as a new frontier for holistic wellness."
"The consumer's definition of living healthy has expanded," Joe Derochowski, a home industry analyst with the NPD Group, tells Vox. "Years ago, consumers would say to be healthy, they need to eat more fruits [and] vegetables, exercise more, and eat less processed foods. Today, they expand beyond exercise and eating to add sleep."
In her 2017 book,Goop Clean Beauty, Gwyneth Paltrow talks about "clean sleeping," which she describes as making sleep the utmost priority in health and wellness, above fitness and diet.
"There's no substitute for good sleep in terms of how well rested you'll feel and look. That's because sleep is a magical time for your body — it's when some of the body's most important repair and revival work happens," the book says.
Goop might have been wrong about thosejade vagina eggs, but accredited, science-based organizations actually side with Paltrow on this one. TheAmerican Psychological Associationcites sleep as "essential" to well-being, and found that 60 percent of adults have sleep problems a few nights a week. TheNational Sleep Foundationbelieves that 45 percent of Americans suffer from poor sleep as a result of their daily activities.
This research also coincides with a change in how society talks about the need for sleep. In the business and tech world, getting little sleep used to be something to boast about, an attitude University of Pennsylvania professor Alan Derickson coined "manly wakefulness" in his 2013 bookDangerously Sleepy. President Trumphas boastedabout only needing four or five hours of sleep a night, and Elon Musk openly talks about how low of a priority it is to him (which doesn't seem to be working out all that well for him).
Culturally, this attitude is shifting.
"We are seeing less of a machismo culture, where people don't brag about not getting sleep," Chapin of Casper says. "The cultural current is telling people to care about sleep and treat it like wellness."
Although the rebranding of sleep as wellness wasn't caused by the mattress boom (and its subsequent sleep economy), the timing worked out impeccably. In turn, the sleepy industry that digital mattress brands helped awaken assisted in making what could have been a fringe concept go national. People are always willing to spend on things that are "better" for them. As these mattress companies made it easier to buy into sleep with the click of a button, shoppers became more prone to spending on sleep accessories — especially when national icons like Huffington andFacebook's Sheryl Sandbergsang the gospel of its wellness benefits.
And while theNational Sleep Foundationsuggests free or low-cost ways to get better sleep — sex, exercise, changing bed linens often — the sleep economy, in the good ol' American way, isn't about working with what you have to improve sleep. It wants you to buy in.
Plenty within the older demographic might catch on to the fact that sleep isn't exactly wellness, that pajamas don't need patented fabrics, and that expensive bed linens won't guarantee a better night's sleep. CB Insights notes that the sleep economy largely relies on the purchases of millennials. We are, after all, the ones who gobble up any wellness category; we drool over the aspirational interior design photos on Parachute's Instagram; and we appreciate the beautiful and airy atmosphere of Lunya's boutiques in New York and California.
Shoppers in their 20s and 30s are themost powerful consumer demographic. But it's not like the industry is preying on them. Leo Wang, the founder and CEO ofBuffy, a sleep brand that sells duvet comforters out of recycled, down-alternative materials, says the demographic is genuinely interested in the category. In case you haven't heard, staying in is the new going out. There's a booming economy of merchandise dedicated toproud homebodies. Wang says industry research shows that shoppers in their 30s want to invest in their home as a method of self-care.
IN CASE YOU HAVEN'T HEARD, STAYING IN IS THE NEW GOING OUT
"We see [the home] as a place for ourselves, a place that represents us, who we will be in it and how we can care for it," says Wang. "That's why bedding has blown up and has merged with wellness in such a meaningful way."
The story that Buffy and the rest of these new brands in the sleep economy are telling, he says, is about how customers can take better care of themselves with the products. They also happen to look nice for the 'gram.
"We are telling consumers they can expect more from their cotton, from their thread count, from their price point," he says. "It's more than just foam and coil in a nicely shaped box. We're selling the underlying premise that we are bringing meaning and well-being into the space."
---
Like all things that are fancy and expensive, sleep is now a status symbol.The New York Timeswrote last year that sleep is more like "a measure of success — a skill to be cultivated and nourished." As sleep has made its way up the food chain of priorities, the bottles ofsleep wateryou drink and theweighted blanketsyou lie under demonstrate that there's real prestige to spending on all of it.
Today, you might score the chicest, most comfortable sleep of your life — but only if you can afford it. The brands capitalizing on the sleep economy are setting the price tags at a premium. Lunya sells cottonsleep dressesfor $108, for example, while Parachute wants $79 for itslinen baby crib sheets; Goop's specialnighttime blend of bath saltswill cost you $35.
Certainly, these products are packaged with a prestige factor. But they also ignore the fact that those who need sleep the most are often the ones who can't pay for it.Studieshave found that white, wealthy populations sleep longer and better thanblack Americans. This poor sleep contributes to the cycle of inequality. It's no surprise when Chapin admits Casper's customers are largely middle-class.
"A lot of our customers are in the demographic that wants to spend on it because it's a luxury they can afford," he says.
Asthe Guardianwrote in March, "sleep is a social justice issue, requiring social solutions."
"You cannot buy sleep itself, but you must pay for the circumstances likely to induce it," the Guardian writes. "Overcrowded, noisy, cold or unsafe housing makes sleep harder. So does shift work — especially if it is casualised and unpredictable. Poor nutrition and stress also take their toll. We fret about reaching for our smartphone at night, while those making the devices sleep on hard beds in shared dormitories with coworkers clattering to and fro."
The sleep economy continues to thrive for those that can afford it. Equinox, the luxury chain of gyms, nowoffers "sleep coaches,"where members pay $500 for six sessions (on top of the already-pricey gym membership). A good night's sleep is now a perk for million-dollar apartments, according tothe Washington Post, which reported on a luxury condominium building in Denver whose units will include air filtration, lighting, and sound attenuation that's dedicated to sleep.
This concentration is extending to the next generation too. Harvey Karp, the famous baby whisperer who empowered parents of all incomes to facilitate good sleeping habits for their babies with his 2002 bookThe Happiest Baby on the Block,has turned baby sleepinto a big business. He now wants parents to purchase his luxury bassinet,the Snoo, for almost $1,000.
Thebaby sleep coach businessis on fire, too, with parents more than willing to cough up fees of $7,500 for 72 hours of baby sleep techniques; Instagram director of fashion partnerships and former Lucky editor-in-chief Eva Chen swore to her social media followers back in February that hiring baby sleep coach and author Suzy Giordano was almost essential.
What's the next frontier of sleep? It could soon be about a different type of baby — the fur baby, America'sfavorite category to spend on.
And that, it seems, is already very much in the works. One of Amazon's top choice of products is a bag of dog bonesinfused with chamomile, which supposedly facilitate deeper sleep. Chewy, the digital pet retailer owned by PetSmart,sells an eye maskthat helps with dog anxiety and sleep. There'sFitBark, a $70 device that attaches to a collar and monitors fitness and sleep levels. Casper's got skin in the game too, of course: Itsdog bedsstart at $125, were designed with dog sleep studies in mind, and were subjected to 460 hours of lab testing.
From our sleep habits to the sleep of our kids and pets, the only thing that won't rest in this economy is our wallets. We might never, ever (ever, ever, ever) step into the type of wealth Jeff Bezos has. But if we spend enough on the necessary sleep accessories for ourselves, our children, and our pets, perhaps, we, too, can sleep like a gajillionaire.
More related articles: The demand for genderless kids apparel is on the rise, The $70 billion quest for a good night's sleep, Dream ticket: how sleep became a billion-dollar business,  Investing in the growing sleep-health economy.
MadeTrends is a fashion trend forecasting agency based in NYC. For your industry-specific 2020 forecast, please contact us.